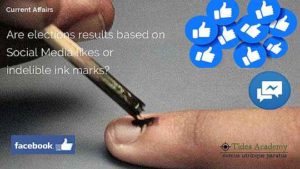 The mobile technology has increased the use and penetration of internet across the world. This has further fuelled the use of Social Networking Sites like Facebook, Twitter et al. Massive exchange of information through these media has already influenced the human decision making and behavior in many forms.
Over the past few years, there have been a lot of changes in how political candidates and organizations campaign. In centuries past, many campaigns took place in form of huge public rallies. Later, these campaigns evolved to include billboards, spots on radio stations, TV commercials, print ads, and more. Now, one of the major driving forces behind political campaigns and elections is the use of social media. Social media has had a profound impact on how candidates organize and structure campaigns, trying to reach as many people as possible and affect change in social issues.
The influence of the use of Social Networking Sites on people's behaviour has recently become more visible than before. For example, among the Internet users, the total percentage of Facebook users is 72% of which 82 % of them are within the age group of 18-29. This fact can help candidates target the millennials. If a candidate can have an impact on this age group, they are most likely to share the message with others in their networks. When candidates share their message supported with photographs and videos, it makes them memorable to this audience. The goal is to influence these young voters and also to get their friends to vote.
Furthermore, candidates can even use these platforms to conduct their own polling information. Many candidates like to use these platforms to interact on a personal level with their voters. Most political candidates are trying to take advantage of these platforms to discuss important issues with the voters. Candidates are also able to tailor their messages to meet their specific audience. Without a doubt, candidates are able to change the type of banner, images, and videos that people see based on the individual's age, geography, or other metrics listed on their profiles.
Where this new a Social Media interaction provides newer ways of engaging the voters, it also presents certain risks. 2016 US presidential elections was followed by allegations that certain media companies like Cambridge Analytica which had access to the private data of Facebook users, used it to influence these people by targeted media campaigns based on their demographic profiles. The incident highlighted how personal data from social media is being used by companies to manipulate voters and distort democratic discourse.
Even in India,for the 2014 General elections, every political party participating set 2-5% of its election budget for spending on social media. It was observed that AAP and BJP were fighting against each other on social media but the Congress party realised its importance quite late.
If there's one fundamental truth about social media's impact on democracy it's that it amplifies human intent — both good and bad. At its best, it allows us to express ourselves and take action. At its worst, it allows people to spread misinformation and corrode democracy. Concerns about disinformation, polarization, political advertising, and the role of platforms in the information ecosystem have heightened.
So the big question, if today the election results are based on Facebook likes or ink marks cannot have simple answers. Even though the elections results still come from the votes, social media plays a significant role in influencing these votes.