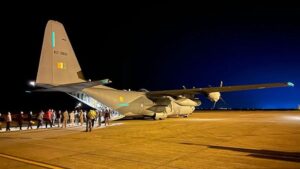 Operation Kaveri is an operation conducted by the Indian Armed Forces to evacuate Indian citizens and foreign nationals from Sudan during the 2023 Sudan conflict. The operation was launched on 24 April 2023, in response to the escalating violence and humanitarian crisis in Sudan, where a coup attempt by the Rapid Support Forces (RSF) against the transitional government led by General Abdel Fattah al-Burhan triggered a civil war. The operation is being conducted by air and sea, with the Indian Air Force (IAF) playing a vital role in airlifting the evacuees from Sudan to Saudi Arabia and India.
Background of the Operation Kaveri
Sudan has been plagued by conflicts and instability for decades, with two civil wars between the central government and the southern regions, a continuing conflict in the western region of Darfur, and several military coups and protests. In 2019, a popular uprising led by the Sudanese Professionals Association (SPA) toppled the long-time dictator Omar al-Bashir and paved the way for a power-sharing agreement between the military and civilian forces. The agreement established a transitional government headed by General al-Burhan and Prime Minister Abdalla Hamdok, with a mandate to hold democratic elections by 2024.
However, on 15 April 2023, the RSF, a paramilitary group led by General Mohamed Hamdan Dagalo (also known as Hemeti), launched a surprise attack on multiple Sudanese Army bases across the country, including in the capital Khartoum. The RSF claimed to have captured key strategic locations such as Khartoum International Airport, Merowe Airport, El Obeid Airport, and a base in Soba. Clashes between RSF and Army forces erupted at the Presidential Palace and at the residence of General al-Burhan, with both sides claiming control over the two sites. The RSF accused the transitional government of corruption, mismanagement, and betrayal of the revolution, while the Army denounced the RSF as traitors and coup plotters.
The violence and chaos triggered a humanitarian crisis in Sudan, where millions of people were trapped without access to basic services such as food, water, electricity, health care, and communication. The United Nations estimated that more than 1.5 million people were displaced and more than 2,000 people were killed or injured due to the conflict. The international community condemned the coup attempt and called for an immediate cessation of hostilities and a return to civilian rule.
Role of Indian Air Force in Operation Kaveri

India has close historical and cultural ties with Sudan, where more than 4,000 Indians live and work, mainly in Khartoum. India also has significant economic interests in Sudan, where it has invested in oil exploration, infrastructure development, agriculture, education, health care, and capacity building. India has also contributed to peacekeeping missions in Sudan under the UN umbrella.
As soon as the conflict erupted in Sudan, India expressed its deep concern over the situation and urged all parties to exercise restraint and respect the democratic transition process. India also activated its contingency plan to evacuate its citizens and foreign nationals from Sudan as soon as possible. India named its evacuation operation as Operation Kaveri, after the river that flows through southern India.
The IAF played a crucial role in Operation Kaveri by providing airlift support for the evacuees from Sudan to Saudi Arabia and India. The IAF deployed two C-130J Super Hercules aircraft on standby in Jeddah, Saudi Arabia as part of preparations for evacuation. The C-130J is a four-engine turboprop military transport aircraft that can carry up to 92 passengers or 64 paratroopers. It can operate from short and unprepared runways and can perform various missions such as airlift, airdrop, air-to-air refueling, special operations, humanitarian assistance, disaster relief,
and medical evacuation.
The IAF also coordinated with other friendly countries such as Saudi Arabia and Turkey to facilitate its evacuation operations. On 25 April 2023, Saudi Arabia safely evacuated 91 foreign nationals from Port Sudan by sea, out of which 66 were from friendly countries including India. The evacuees were transported by an Indian Navy ship INS Sumedha to Jeddah. On 27 April 2023, Turkey allowed an IAF C-130J aircraft to land at Wadi Seidna Air Base near Khartoum to evacuate 121 Indian nationals. The flight was dangerous, as fighting was going on in the area and a Turkish plane had come under fire there earlier. The IAF pilots used their onboard electro-optical and infrared sensors to ensure that the runway was free of obstructions and no hostile forces were in the vicinity.
The IAF continued its evacuation operations till 6 May 2023, when it brought the final batch of 47 passengers home by a C-130J flight from Jeddah. The IAF successfully evacuated a total of 3,862 people from Sudan, out of which 3,741 were Indian nationals and 121 were foreign nationals from 18 countries. The IAF also transported essential supplies such as food, water, medicines, and blankets to the evacuees in Sudan and Saudi Arabia.
The IAF played a vital role in Operation Kaveri by providing airlift support for the evacuees from Sudan to Saudi Arabia and India. The IAF displayed its professionalism, courage, and humanitarian spirit by conducting the evacuation operations in a timely, efficient, and safe manner. The IAF also demonstrated its operational readiness, strategic reach, and interoperability with other friendly forces by operating from different locations and platforms. The IAF earned the gratitude and appreciation of the Indian government, the evacuees, and the international community for its role in Operation Kaveri.