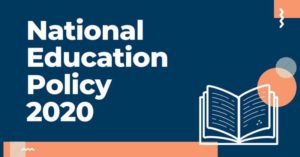 National Education Policy (NEP) is a comprehensive framework to guide the development of education in the country.
In July 2020, Union Cabinet cleared a new National Education Policy (NEP). The latest policy is India's third. The first came in 1968 and the second in 1986. The latest policy replaces the 1986 NEP which was in place for 34 years. The NEP 2020 aims at making India a Global Knowledge Superpower.
The new NEP proposes sweeping changes including opening up of Indian higher education to foreign universities, dismantling of the UGC and the All India Council for Technical Education (AICTE), introduction of a four-year multidisciplinary undergraduate programme with multiple exit options, and discontinuation of the M Phil programme.
In school education, the policy focuses on overhauling the curriculum, "easier" Board exams, a reduction in the syllabus to retain "core essentials" and thrust on "experiential learning and critical thinking".
In a significant shift from the 1986 policy, which pushed for a 10+2 structure of school education, the new NEP pitches for a "5+3+3+4" design corresponding to the age groups 3-8 years (foundational stage), 8-11 (preparatory), 11-14 (middle), and 14-18 (secondary). This brings early childhood education (also known as pre-school education for children of ages 3 to 5) under the ambit of formal schooling.
The NEP says students until Class 5 should be taught in their mother tongue or regional language. The policy also proposes phasing out of all institutions offering single streams and that all universities and colleges must aim to become multidisciplinary by 2040.
Key highlights of the NEP 2020:
School Education:
The current 10+2 system to be replaced by a new 5+3+3+4 curricular structure corresponding to ages 3-8, 8-11, 11-14, and 14-18 years respectively.

Bring the uncovered age group of 3-6 years under school curriculum, which has been recognized globally as the crucial stage for development of mental faculties of a child.

Class 10 and 12 board examinations to be made easier, to test core competencies rather than memorized facts, with all students allowed to take the exam twice.

School governance is set to change, with a new accreditation framework and an independent authority to regulate both public and private schools.

Vocational Education to start from Class 6 with Internships.

Teaching up to at least Grade 5 to be in mother tongue/regional language. No language will be imposed on any student.

Assessment reforms with 360 degree Holistic Progress Card, tracking Student Progress for achieving Learning Outcomes
Higher Education:
Holistic Undergraduate education with a flexible curriculum can be of 3 or 4 years with multiple exit options and appropriate certification within this period.

Holistic Undergraduate education with a flexible curriculum can be of 3 or 4 years with multiple exit options and appropriate certification within this period.

M.Phil courses will be discontinued and all the courses at undergraduate, postgraduate and PhD level will now be interdisciplinary.

Academic Bank of Credits to be established to facilitate Transfer of Credits.

Multidisciplinary Education and Research Universities (MERUs), at par with IITs, IIMs, to be set up as models of best multidisciplinary education of global standards in the country.

The National Research Foundation will be created as an apex body for fostering a strong research culture and building research capacity across higher education.

Higher Education Commission of India (HECI) will be set up as a single umbrella body for the entire higher education, excluding medical and legal education.
Other Changes:
An autonomous body, the National Educational Technology Forum (NETF), will be created to provide a platform for the free exchange of ideas on the use of technology to enhance learning, assessment, planning, administration.

National Assessment Centre- 'PARAKH' has been created to assess the students.

It also paves the way for foreign universities to set up campuses in India.

It emphasizes setting up of Gender Inclusion Fund, Special Education Zones for disadvantaged regions and groups.

National Institute for Pali, Persian and Prakrit, Indian Institute of Translation and Interpretation to be set up.

It also aims to increase the public investment in the Education sector to reach 6% of GDP at the earliest. Currently India spends around 4.6% of its total GDP on education.
Merits of National Education Policy 2020:
Comprehensive: NEP seeks to address the entire gamut of education from preschool to doctoral studies, and from professional degrees to vocational training.

Early Childhood Education: In adopting a 5+3+3+4 model for school education starting at age 3, the New education Policy recognizes the primacy of the formative years from ages 3 to 8 in shaping the child's future

Easy on Regulations: NEP 2020 makes a bold prescription to free our schools, colleges and universities from periodic "inspections" and place them on the path of self-assessment and voluntary declaration

Holistic: The policy, inter alia, aims to eliminate problems of pedagogy, structural inequities, access asymmetries and rampant commercialization.

Promote Inclusion: The Policy proposes the creation of 'inclusion funds' to help socially and educationally disadvantaged children pursue education
Challenges to National Education Policy 2020:
Cooperation from States: Any educational reform can be implemented only with support from the States, and the Centre has the giant task of building a consensus on the many ambitious plans The idea of a National Higher Education Regulatory Council as an apex control organisation is bound to be resented by States.
Inadequate check on donations: Fee regulations exist in some States even now, but the regulatory process is unable to rein in profiteering in the form of unaccounted donations.
Funding: Progress on these crucially depends on the will to spend the promised 6% of GDP as public expenditure on education.
Way Forward:
The NEP only provides a broad direction and is not mandatory to follow. Since education is a concurrent subject (both the Centre and the state governments can make laws on it), the reforms proposed can only be implemented collaboratively by the Centre and the states. This will not happen immediately. The incumbent government has set a target of 2040 to implement the entire policy.
NEP 2020 is a progressive shift towards a more scientific approach to education. The prescribed structure will help to cater the ability of the child – stages of cognitive development as well as social and physical awareness. If implemented in its true vision, the new structure can bring India at par with the leading countries of the world.
If you are preparing for Defence Exams, TIDES Academy offers dedicated Coaching courses for different Defence Exams like NDA, CDS, CAPF(AC). For more information call us at 98961 06442